Andalusia - Costa del Sol - Estepona - Bahia Dorada
Andalusia is Spainís southest region, the southest point of Europe. It is divided from Africa the mere 14 km wide Strait of Gibraltar. It is adjacent with the Atlantic Ocean from the west, the Mediterranean sea from south, and the hills of Sierra Morena from the north.
Andalusia is the home of flamenco, bull-fighting, horses and fine Spanish wines.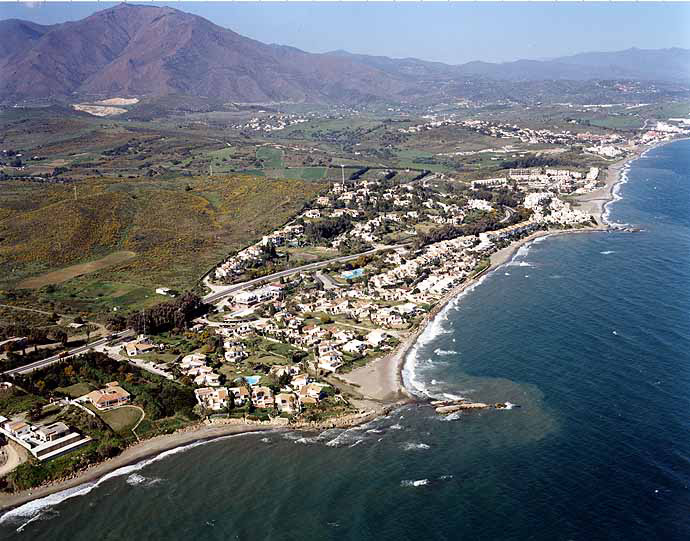 The 700 years long heritage of Saracen empire is obvious at first look. Apart from the ruins of Saracen fortresses, castles, mosques and a few remarkable national monuments, the most widely known features of Andalusia are its old-towns with narrow alleys and its signature whitewashed buildings.
Among the various coastlines, the Costa del Sol is the number one tourist destination in Europe. This is partly because of its unique climate. The sunny days are above 320 days, the summer lasts from May to October. It is not unusual to have 15-20 C degree temperature in the winter. Along the coastline the beaches vary from sand and pebble stones, the towns vary between busy tourist destinations with high rise buildings and quiet Andalusian style modern settlements.
Estepona is a quiet, cozy town along the sea, situated between the marvelous hills and the sea. It takes a mere 1 hour trip from Malaga airport to get here. Estepona is the last spot of Costa del Sol which is not heavily populated with tourists. It is most suitable for those looking for a quiet, relaxing vacation. Its fine restaurants, splendid public parks, and charming city centre offers a pleasant way of living.
Bahia Dorada urbanization is located 3kms from Estepona to the south-west. Bahia Dorada utterly respects and maintains the Andalusian way of living and style. The apartments replicate the alleys of the old-town which is surrounded by lively Mediterranean gardens. Among the whitewashed walls you get a relief from the hot, while you can enjoy the real Mediterranean summer on the beach.
Residents can use tennis-courts, 6 swimming-pools free of charge. The closest swimming-pool is just a few meters away. Parking is safe in the private parking place of the apartments. Shopping centers are in close proximity (Aldi, Mercadona, Lidl)
The closest restaurant is just 5 minutes away by foot. You can find various snack-bars on the beaches as well.
In the centre of Estepona and on its beach you can find countless restaurants, bars, disco and playground.
We are offering newly renovated apartments in this picturesque environment. The apartments are 30 meters from the beach and equipped with air condition. The apartments are available for non- smoking guests. The apartments were full renovated up to a high standard in the summer of 2011.

We hope that we can welcome you as our guest soon.